Characteristics
| | |
| --- | --- |
| Automatic | Multiple blast wheels |
Description
Steel Bar Shot Blasting Machine
can
save labor and improve productivity. The bars are automatically fed into shot blast cabinet where multiple blast wheel providers through abrasives coverage of the entire surface of the bar. The bars proceed through the blast cabinet, on to a conveyor which automatically transfers discalced bars on to conveyors for further processing.
Application
1. Remove rust and oxide layer on the surface of the wire.
2. After blasting, wire rod surface presents a uniform roughness, which will help to increase the adhesion of the aluminum clad copper clad, cladding uniform will never fall off.
4. Eliminate the internal stress generated in the wire drawing process.
5. Increase the wire surface tensile strength and resistance to stress corrosion cracking, permanent life. The machine is best suitable models for wire surface oxide skin treatment.
Details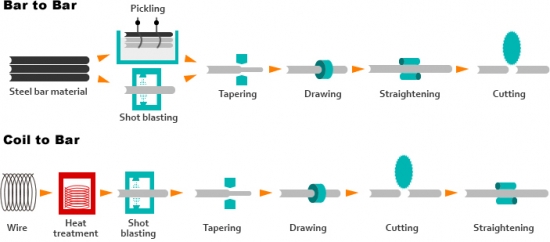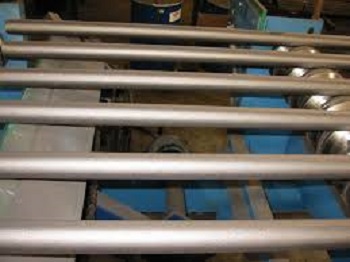 1. The number and power of the turbines are chosen according to the requirement production rate.
2. PLC control system, stable quality and easy to get support from local.
3. Component key parts adopt world famous brand, such as Siemens, Omron, Schneider, Mitsubishi.
4. With BE rotating drum separator, high separating rate
5. All shot blasting machines are totally integrated with abrasive reclaim systems, separator and dust collector.
6. 20 years experienced engineers, customized service available.
7. After-sale service support will be provided within 24 hours.
Technical Parameters
Steel Bar Shot Blasting Machine
Model
DX10
DX15
DX20
DX25
DX30
DX140
Work piece size(mm)
30*100
50*150
50*200
50*250
50*300
150*1400
Shot capacity(kg)
2*250
2*250
2*250
2*250
2*1000
2*1000
Elevating capacity(kg)
30000
30000
30000
30000
30000
1200000
Separating capacity(kg)
30000
30000
30000
30000
30000
1200000
Air volume(m³/h)
5000
5000
5000
6000
6000
10000
Power(kw)
50
50
50
50
50
115
This machine is not a standard machine, any parameters can be customized according clients' requirements, so any further information please contact with us, our skilled engineer team will give you the most professional and cost-effective solutions.